James Hellwege has served as the risk management chair of the Colonial District of the National Capital Area Council (Washington, D.C. area), has been a presenter of risk management principles to hundreds of adult volunteers at district-based BALOO, Boy Scout Leader Specific Training and Introduction to Outdoor Leader Skills, as well as at wilderness first aid courses, before Venture crews, council-sponsored Powder Horn and Backcountry Outdoor Leader Skills training, moderator/presenter at (and organizer of) an "Outdoor Risk Management Forum" for adult leaders, a presenter on the topic of risk management at both the National Capital Area Council's and Chester County Council's University of Scouting,  and before an Association for Experiential Education-sponsored conference, and outdoor risk management consultant.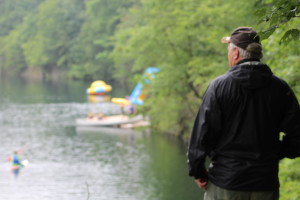 The author has served as a volunteer Scout leader for the past 21 years, 18 years of which as Scoutmaster in Mt. Vernon, Virginia, including attendance at 35 one week summer camps (in Virginia, Maryland, Pennsylvania, New York, and Ontario, Canada) . . . and still counting.
The author's Scouts have participated in numerous high adventure programs, including Philmont, Double H High Adventure Base, Northern Tier (OKPIK), Florida Sea Base, Maine High Adventure Base, Bechtel Summit Reserve, Claytor Lake Aquatics Base, kayaked on Lake Champlain, sailed on the Chesapeake Bay, and canoed and backpacked in the Adirondacks.
The author is a member of the Virginia bar, recipient of the National Capital Area Council's District Award of Merit, recipient of the 2015 Northern Virginia Distinguished Scouter Award (Colonial District), attendee at the 1964 National Jamboree at Valley Forge, an Explorer Scout "Voyageur" participant at BSA's Region 7 canoe base in Wisconsin (since closed), an Eagle Scout (who spent his Scouting youth in Troop 339 of the St. Louis Area Council), son of a Silver Beaver-recipient father and a long-time Cub Scout den leader mother, the brother of two Eagle Scouts Richard and Steven, and the proud father of an Eagle Scout, Andrew.