"Risk Management in Scouting – Essentials for Leaders",  new in 2015, is written by a Scout volunteer specifically for Scout volunteers to help them better understand their role in monitoring the health and safety of Scouts under their care while exercising risk management principles.
This 197 page, 5 1/2 x 8 1/2 inch, spiral-bound book makes clear the legal and ethical obligation of Scout volunteers from a risk management standpoint in the conduct of the Scouting outdoor program. The book explains how Scout volunteers can best conduct their outdoor program by combining industry-recognized outdoor risk management principles with BSA's safety guidelines as set forth in the Guide to Safe Scouting and associated BSA training.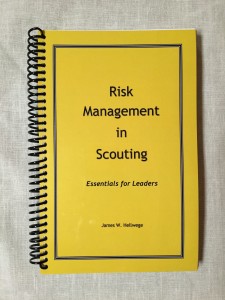 The book, the result of several years of research and discussions with experienced outdoor risk management practitioners, is intended to be a user manual for adult volunteers new to Scouting, but should be a valuable resource to all adult Scouting volunteers, experienced or not.
This book is not merely a rehash of BSA's policies and procedures!  Instead, the book focuses on industry-recognized outdoor risk management principles intended to supplement, and used in conjunction with, that which resides in BSA literature such as the Guide to Safe Scouting.  The book also includes numerous anecdotes which are discussed in relation to such principles.
The book's 14 chapters are as follows:
Chapter I:       What is risk management, and why does it matter in Scouting?
Chapter II:     What happens if risk is mismanaged?
Chapter III:    Who can be liable . . . and for what?
Chapter IV:    Good judgment is crucial, and not easily achieved!
Chapter V:     The "Big 3" – Gear, people, environment!
Chapter VI:    Participating youth & adults = risk!
Chapter VII:   Stick to the mission of Scouting!
Chapter VIII:  Aquatic venues – sink or swim?
Chapter IX:     Weather need not be a surprise, but sometimes it is!
Chapter X:      Transport participants safely!
Chapter XI:    Parents can help, and sometimes need help!
Chapter XII:   How can leaders deal with risk?
Chapter XIII:  Waivers, gross negligence, and informed consent
Chapter XIV:  Take advantage of available resources
The book concludes with an 8 page appendix  identifying relevant BSA and  non-BSA outdoor risk management resources, which should prove to be an invaluable asset for leaders seeking to enhance their level of knowledge, as well as the knowledge of all participants in Scouting's outdoor program.
Read a sample section of the book here.
Reader comments:
"Thank you for sending me a copy of "Risk Management in Scouting"  which is now the definitive go to guide!   Your book is well written , thorough, detailed and cross-referenced to sources. More importantly it is written by someone who has been there/done that with real world experience in situations that scouts encounter."
"I want to thank you for writing this book, the information is timely and well written; the material is delivered in an understandable way. Leaders would benefit greatly by reading and applying those principles."
Buy the book today!   Care, learn, share!
Disclaimer #1:  The views expressed in this website, and in the above book, are solely those of the author, and do not necessarily reflect the views of the Boy Scouts of America (BSA), and are not in any way intended to express any official position, or be officially endorsed by BSA, or any other official Scouting organization.  This website is not sponsored by BSA, the content of the accompanying blog is solely that of the author (unless otherwise attributed), and neither is endorsed by BSA, and may or may not be consistent with any official positions of BSA.  The book is solely the work of the author, and is neither endorsed by, sponsored by, or an official publication of BSA, or any other official Scouting organization, and is not intended to be a substitute for any official BSA publication.  Boy Scouts of America, BSA, Florida Sea Base, OKPIK, Philmont, and Northern Tier are trademarks of the Boy Scouts of America.
Disclaimer #2:  No information contained in this website, or in the above book, shall constitute, be considered, or is intended to be considered or constitute, legal advice, or legal opinion, and cannot be relied on as such.