The Guide to Safe Scouting defines a "qualified superviser" as one who is "sufficiently trained, experienced, and skilled in the activity to be confident of his/her ability to lead and to teach the necessary skills, and to respond effectively in the event of an emergency."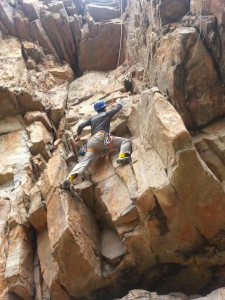 This definition does not differ significantly from the skills required of an outdoor leader in the outdoor recreation industry.  Indeed, it has been said that the skills required of a successful outdoor leader are the following:
Outdoor skills – outdoor living, technical, rescue, medical, and safety skills;
Human skills – interpersonal, coaching, and counseling skills required for effective human interaction and teaching;
Educational skills – a functional understanding of activity structure, progression, and outdoor education strategies, with the ability to manage safe activities; and
Administrative skills – skills necessary to address all aspects of a program's design and management.
Clearly, a unit leader who has mastered the above skills of an outdoor leader should be able to similarly meet the stated qualifications of, and successfully serve as, a "qualified supervisor".
And, importantly, a unit leader must be capable of carrying out any risk management plan – otherwise, the plan is of no value to the participants!  All part of being a qualified supervisor.
The Scouts deserve no less!
"Qualified Supervision" . . . do you have the skills?