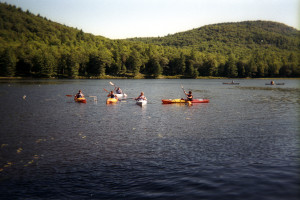 During approaching spring and summer boating seasons, here are some safe boating reminders.
A kayak or canoe river trip may not normally seem to be a high risk event, but what if fast moving water due to heavy rains or melting snow is added to the mix? Or perhaps the Scouts or adults present are inexperienced or unskilled in kayaking or canoeing, or the temperature of the river is under 70 degrees, or the river conditions may exceed the skill level of many of the Scouts or adults, or any combination of the above.
Will leaders determine that the water level and river flow rate are acceptable both for the activity and for the age and experience level of the group? Will the water temperature be determined to be within acceptable limits? Are the water level and flow rate susceptible to sudden change due to recent or approaching weather? Learn from a real life example.
Many rivers have on-line flow rate/water temperature gauges that may prove invaluable when determining whether the river conditions are appropriate for the activity. Many river gauges can be found at the link for American Whitewater.
Most will find water temperatures below 70 degrees F to be chilly (fairly typical for local rivers until mid-summer). If you don't know what the water temperature is, bring a thermometer.
Your attention should be directed to Chapter 14 of BSA's Aquatics Supervision manual (2013 edition) for a discussion of cold water safety, which states that at water temperatures below 60 degrees F, boaters should wear insulating clothing such as a wet or dry suit. In other words, participants should dress for the water temperature.
Cold water can have a potentially tragic effect on boaters subjected to long-term exposure in the event of an inadvertent accident as demonstrated by this summer 2015 Boundary Waters incident.
Of note, BSA and the American Canoe Association (ACA) in 2016 produced a new "moving water" canoeing/kayaking safety video titled "Reading the Rhythms of Rivers and Rapids".
Units may order a free copy from the ACA at this link (all units who canoe or kayak on rivers should do so!):  https://aca.site-ym.com/?page=BSADVD#
Safe boating!