"Risk Management in Scouting – Essentials for Leaders",  new in 2015, is written specifically for Scout volunteers by a Scout volunteer to help them better understand their role in monitoring the health and safety of Scouts under their care using industry-recognized risk management principles.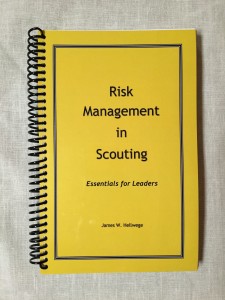 A Scout volunteer should purchase this book to enhance his or her ability to provide a quality outdoor program while taking into account the best interests of participating Scouts and adults from a risk management standpoint.  In short, you should purchase this book because you care about the Scouts' welfare!  (not to mention other adult volunteers)
Not only do Scouts deserve trained leaders, but they deserve trained leaders who understand their legal and ethical obligations from a risk management standpoint in the conduct of Scouting's outdoor program.
Risk management in Scouting is more than  merely following BSA's rules and procedures. This book supplements  BSA's Guide to Safe Scouting by educating adult leaders in how to best care for the youth under their care in the outdoors, providing guidance as to how to incorporate the Guide's policies into the planning and conduct of an outdoor activity.  The book includes many anecdotes of outdoor incidents which are discussed in relation to such procedures and policies.
Indeed, BSA's Venturing Advisor Guidebook (2014) describes Scouting as "an educational approach delivered in part through a process called experiential education", which may include challenging outdoor activities such as ropes courses, rock climbing, whitewater rafting, kayaking, canoeing, backpacking, dog sledding, sailing, etc.
It is clear that the entire Scouting program may be characterized as an "experiential education" program, the characteristics of which may require skills and judgment to be exercised by adult leaders which may not normally be one of their personal skill sets.
CARE  what your skills need to be!
LEARN  how to best exercise those skills!
SHARE  what you have learned with others!
This book is accordingly for Scout volunteers who want to better understand the following:
 What your legal obligations are as an adult leader as guardian for your Scouts?
 What standard of care should you meet during an outdoor activity?
 How important are near misses in the context of an outdoor activity?
 What is a reasonably foreseeable risk?
 What is the difference between actual and perceived risk, and why does it matter?
 How is the magnitude of risk determined?
 How important is an adult's leadership style in relation to risk?
 Who can be liable, and for what?
 What are the potential consequences regarding the use of untrained volunteers?
 What are the advantages and disadvantages of BSA's liability insurance coverage?
 What is the potential benefit to an adult leader of the Federal Volunteer Protection Act of 1997?
 How important is the exercise of judgment, and how can judgment best be exercised in the outdoors?
 What social traits of a leader can work against the exercise of good judgment in the outdoors?
 What are the "Big 3" of risks?
 What potential risk factors should be addressed during an activity?
 How can both youth and adults contribute to risk?
 What is the difference between being a mere chaperone, and exercising qualified supervision?
 Why should adult leaders stick to the mission of Scouting in the conduct of an activity?
 Know can you best conduct an activity in an aquatic venue?
 How much of a danger is cold water during an aquatic activity?
 How can you best deal with the effects of weather?
 How can you transport participants safely during an activity?
 How can you best deal with, and educate, parents, to minimize risk?
 How can an adult leader best deal with risk during an activity?
 How can agreements such as waivers be used with advantage?
 How can a leader's actions potentially negate the legal effect of a signed waiver?
 How can the actions, or inaction, of an adult leader result in an allegation of simple or gross negligence?
 What BSA and non-BSA outdoor risk management resources are available?
 and much more . . .
This 197 page book, including an 8 page appendix of outdoor risk management resources, written specifically for Scout volunteers by a Scout volunteer with 21 years of experience, provides a framework within which BSA's policies and guidelines may be successfully practiced to the benefit of all, particularly for Scouts and their parents.
Purchase your copy now – share with members of your unit!  Safe Scouting!
BOOK READERS' COMMENTS:
"Thank you for sending me a copy of "Risk Management in Scouting"  which is now the definitive go to guide!   Your book is well written , thorough, detailed and cross-referenced to sources. More importantly it is written by someone who has been there/done that with real world experience in situations that scouts encounter."
"I want to thank you for writing this book, the information is timely and well written; the material is delivered in an understandable way. Leaders would benefit greatly by reading and applying those principles."
THE AUTHOR'S RISK MANAGEMENT COURSE ATTENDEES' COMMENTS:
"One of the best lessons for me was the difference between risks that my hiking buddy and I might take with 25+ years of hiking experience (and only ourselves to worry about), and the proper duty of care when taking Scouts on an adventure."
"I want to thank you for all the great info [during the training session].  I know that we have a couple of changes we will be making to our unit's Policies and Procedures."
"Great course!  I'd like to incorporate your info into our Troop Leadership Training." (Which they did!)

 "I very much enjoyed your presentation, and look forward to reading your book."
 

"This topic is really important!"  

(Yes, it is!)
  "Great course! Really enjoyed it, and talked it up already at our Court of Honor."

  "It was an excellent training session.  I certainly hope this training gains momentum within the Scouting community.  I, for one, would have valued the training before my high adventure treks.  Having said that, with my past experience and knowledge, it makes more sense than ever.  We should never become complacent when it comes to the safety of Scouts and adult advisors."
"This was a great session!!"
"This training needs to be available for all outdoor leaders."
"Thank you for this information!"
"The best explanation of 'foreseeable risk' that I have ever heard."
"Risk management is not talked about enough – there is no room for bravado in Scouting, and risk management shows why."
Disclaimer #1:  The views expressed in this website, and in the above book, are solely those of the author, and do not necessarily reflect the views of the Boy Scouts of America (BSA), and are not in any way intended to express any official position, or be officially endorsed by BSA, or any other official Scouting organization.  This website is not sponsored by BSA,  the content of the accompanying blog is solely that of the author (unless otherwise attributed), and neither is endorsed by BSA, and may or may not be consistent with any official positions of BSA.  The book is solely the work of the author, and is neither endorsed by, sponsored by, or an official publication of BSA, or any other official Scouting organization, and is not intended to be a substitute for any official BSA publication.  Boy Scouts of America, BSA, Florida Sea Base, OKPIK, Philmont, and Northern Tier are trademarks of the Boy Scouts of America.
Disclaimer #2: No information contained in this website, or in the above book, shall constitute, be considered, or is intended to be considered or constitute, legal advice, or legal opinion, and cannot be relied on as such.