A recent study analyzed search and rescue (SAR) response reports for Baxter State Park in Maine (home of Mt. Katahdin, terminus of the Appalachian Trail) for the 20+ year period of 1992-2014.
Perhaps not surprisingly, the study found that fatigue was a factor in 20% of all SAR responses in the park, and was also a factor in 66% of all medical-related SAR responses.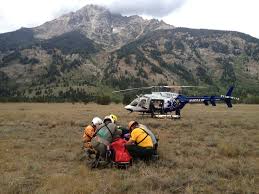 The median age for those requiring SAR assistance was stated to be 39 years (an approximate age for an adult Scout volunteer).
More specifically, the primary causes for SAR assistance were the following:
lower extremity injury 25%
exhaustion 15%
lost party 10%
head injury 8%
upper extremity injury 7%
Secondary problems which most frequently accompanied the primary cause were the following:
dehydration 38%
lower extremity injury 34%
unprepared for the activity 33%
exhaustion 28%
The report contained the following conclusions, among others:
"When coupled with poor cellular service coverage, a lack of essential supplies, the increasing burden of chronic disease, and no access to definitive care, hiking-related injuries can become serious threats to health and survival."
"Many visitors to Baxter State Park, home of Maine's highest peak, Mt. Katahdin, aspire to summit the mountain and

often underestimate the physical conditioning and supplies necessary

for navigating the rugged terrain."
What does this information mean to Scout volunteers?
As concluded above, hiking as an activity under challenging conditions and in challenging environments (high elevation changes, isolated area) can result in need for assistance if unprepared for the activity, either skill-wise, physical fitness-wise, gear-wise, or environment-wise!
Also, the age of a Scout volunteer may render a volunteer particularly susceptible to the effects of the hazards presented by such an activity.
The lessons of Baxter State Park can be readily applied to Scouting activities in other challenging hiking locales, be it Utah, Colorado, California, Montana, New Hampshire, Vermont, among others (and, there are others to be sure).
Be prepared!  BSA's Trek Safely guidelines should be familiar to, and followed by, all.
Safe hiking!
Hiker fatigue raises its ugly head at Baxter State Park (Maine)